I've had some questions and requests to put out a back office preview of the Site Rubix Free Website Builder. You can also sign up for the free 7-day trial if you want to see it for yourself.
But I'll go ahead and indulge in the hopes that you give it a shot and just get your website up the simplest and cheapest way possible – you can't get cheaper than free.
Site Rubix Website Builder
SiteRubix is a platform aligned for use with WordPress, to help make your website building point-and-click easy.
Below is a sneak peek, my own screen shots, of my personal blogger back-office at SiteRubix, and the tools I have access to.
Warning: Some of these are only available through the premium membership, but you can keep access to the basic tools you need in order to build a free website, and SiteRubix will host 2 domains for free, so it's worth checking out.
SiteRubix Menu:
These are the links to all the different tools you'll have to help you with your website – everything from building it, adding pages or posts, getting comments, to tech support, and more.
Don't worry, you will get a walk-through of each of these once you register and get started. I'll show you a few here, as well.
SiteManager:
SiteManager is where I get to access my websites. The above information is displayed for each one.
You can see that this domain has 3 pages, 20 posts, and 73 comments. There are no pending comments, but it's helpful to know when there are.
The website has been indexed in Google – Google can find my site!
The site is in pretty good health, starting to actually be trusted by Google when people are searching my topic.
What happens if I click on "View Details" under our SiteHealth (top right blue words)? I get a full breakdown of the health of my website, basically – how it is doing in the world of being found on the Internet.
SiteHealth:

From this I can see that I may have a few too many plugins, affecting speed for my visitors – easy to fix.
I also see that I need to get more feedback from visitors to my site, which can easily be done right here in SiteRubix.
And I see that because my site is a little new (just started buildling it a few months ago), but that if I continue to build content and get visitors, Google will trust me more.
This is something that is important for bloggers or affiliate marketers, or anyone who is trying to make money through their writing.
If you're just building a website for your business, this may not apply. But don't discount the marketing potential of starting a blog on your business (any business) website. You could be missing out on a huge opportunity to expand.
SiteContent:
SiteContent is this amazing place where I can create a simple post or webpage with a few clicks.
As a blogger, I love that I can see how many words I've written. But even if you're just going to create a few pages, you will find it very simple. All you have to do is click Create New.
Then you'll have the option to choose a blank document or one of your templates (I'll show you below).
When your document opens, just start writing.
Add images from the SiteRubix directory if you like:
And when you're ready to publish….
It's as easy as clicking a button.
Writing Templates:
SiteContent comes with some writing templates that are pretty useful, including the Privacy Policy and a basic About Me page.
You can also create your own.
These are especially helpful if you are creating content week after week, or perhaps updating a newsletter, or calendar for any business. etc.
SiteComments and SiteFeedback:
SiteComments is my favorite place in the whole word, because this is where I get engagement with my website and the outside world, starting with the community I have access to through SiteRubix.
There is also a SiteFeedback platform where I can get feedback from other website designers about my site design.
And here are my back ofice views of both the comments and feedback platforms, where I can get really great traffic to my site and feedback from professional web builders, and others like myself, while giving some of my own.
I can't emphasize enough how important it is, if you want to rank in Google, to get comments on your site. This shows Google that people are engaging with you because of your content.
The community within SiteRubix and Wealthy Affiliate is so great. I can just read someone's post and write a valuable comment, and earn comments on my own site.
This is definitely the most valuable aspect of being a premium member at SiteRubix.
Again, you can check out ALL of this with the 7-day free trial.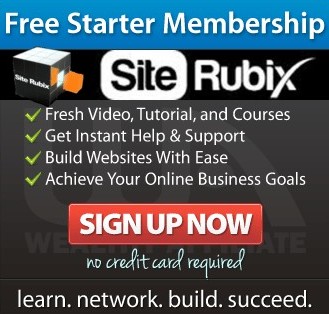 Questions or comments?
If you want any more information on building your own website for free on Siterubix, check out our article: BUILD YOUR OWN WEBSITE FREE
Feel free to also question or comment below. I'd love to hear of any similar user-friendly, web design platforms you've had experience with and enjoy.