As the famous saying goes…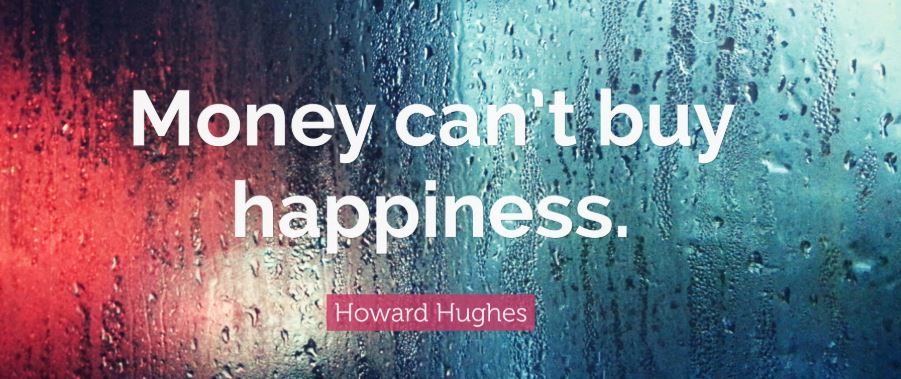 Howard Hughs was a billionaire, you'd think he'd be a credible source. But a lot of people seem to disagree or have confusions on this idea.
The money happiness correlation seems to be a hot topic with a lot of controversy, today.
money just does buy happiness though doesn't it

— masha (@m4shacaisley) February 25, 2018
"Money can't buy happiness" or "money isn't everything" are the dumbest phrases ever. It's just an excuse used by people to not pay you. Money is literally what you need to LIVE, let alone be happy.

Pay me.

— Kanadian Rider TANNER ???????? (@TannerLPer) February 28, 2018
we've all been told money doesn't buy happiness yet we all spend our whole lives chasing it

— Sam (@SamGolbach) February 20, 2018
Money is happiness. Even in the movie "Pursuit of Happiness"

It was when Will Smith got a job and started seeing Money the movie ended.

The Pursuit of Happiness is the search for Legit Money.

— Obong Amasi (@Naijabiggz) February 26, 2018
Whoever thinks #money doesn't bring #happiness, transfer it to my account. ????

— Amit Panchal (@AmitHPanchal) March 1, 2018
Convinced the person who said money doesn't buy happiness was just tryna make the best outta being broke

— Dior Stewart (@GnaarlyCharlie) March 1, 2018
And the confusion makes sense.
I mean, wouldn't I be happier if I could pay my bills? Wouldn't I be happier if I didn't have to worry about paying rent? Wouldn't I be happy if I could buy designer clothes or a brand new car?
And then there's the idea that if you spend your money properly, you can definitely be happier.
Studies show the key to happiness is spending your money on experiences rather than possessions.

— What The F*** Facts (@WhatTheFFacts) February 24, 2018
Despite the confusion, there actually is a lot of evidence that money itself is not the basis for happiness.
Thank you for showing me that money can't buy happiness. Or intelligence. Or kindness, decency, or character. #ComplimentYourEnemies pic.twitter.com/QircNcyElb

— Eric Michael Brehm???????? (@EM_Brehm) March 1, 2018
Money doesn't make me happy. Making people happy is my happiness.

— Thesugardad (@THESUGARDAD1) February 27, 2018
So what is it that actually brings happiness? Some people seem to have a handle on the idea.
Happiness starts with you. Not with your relationships, not with your job, not with your money, but with you.

— poemsbees♧ (@poemsbess) February 22, 2018
Money doesn't bring you happiness. The right attitude is what bring you happiness. Wm. (Bill) Bryson pic.twitter.com/bhTMlBIkwG

— William (Bill) Bryson (@InterestingFol1) March 1, 2018
Happiness doesn't start with a relationship, a degree, a job or money. It starts with your thoughts and what you tell yourself every day.

— Mindfulness Wellness (@HealingMB) February 25, 2018
Okay, sure. But we all still want money, right?
Money Motivation and the Secret to Having More Money
The bottom line is: if you can't be happy without money, then you won't be happy with money. This is a hard truth to accept for most people, because most people these days are in a poor economic state and constantly stress about money.
Even I have trouble understanding why money can't buy happiness. I want a simple life. I want a small house with a yard that my cats can enjoy, instead of a cramped apartment where they never get to go outside. I don't care about designer clothes, but it would be nice to have new clothes that aren't from a thrift store and don't have holes in them. Don't I need money for all of this?
Of course, but I can't let money be what motivates me.
The Drive for Money
The most important lesson I've ever learned about money, is not to be motivated by it. When money is what drives you, it diminishes your real accomplishments and goals in life, and essentially makes you shallow.
When you're motivated by money, your goals aren't defined. You may imagine that sitting in a pile of money would be a lot of fun. But in the end, it's just a pile of paper. It's what it signifies and what's figuratively "in your heart" that is important.
Another important thing to note: Money flows naturally.
Think of money as a flow of energy or electricity. Without a connection and a conduit, something to conduct it, it doesn't move. It becomes static.
Do you ever find it interesting that you always have just enough money to take care of the basics? Most people can pay their rent and buy basic necessities, food and some clothes. These are things and goals that are driving the money in and forcing it back out. If you didn't have these things, you'd have less drive to make money and you wouldn't have as much of it.
The things that aren't important or vital won't necessarily drive the flow of money. For example, think of the bills that get paid last or sometimes not all. These commonly include medical bills and student loans, because these are based on things you've already accomplished and no longer reaching for.
The more money you make the more ways you'll find to spend it and the more money you'll want. It's an endless vicious cycle, unless you take money out of what is motivating you.
The Secret to Getting Money
The secret to getting money is being motivated by a higher purpose.
What you need to do is figure out what your real end goals are. What is it that actually brings you happiness? What do you want to achieve? It doesn't matter if it's something you need money to do, that's fine, we all need money. But you have to be motivated and driven by something bigger than money or you will never have enough.
Here are a few simple steps that might help:
1. Make a list of everything in your life that truly makes you happy and doesn't require money. Don't include things that don't themselves make you happy. If you'd be happy for the rest of your life with nothing but a piece of paper that says 100 and has a picture of Ben Franklin, then fine – put money on your list. But if the thing itself is not a part of your happiness, don't include it.
Some things that truly make me happy and don't require money include: my husband, my family, my cats, being outside, and the satisfaction of helping others.
2. Go through each item on your list and remember a time when you were happy because of that thing. Don't do this carelessly or just as an exercise. Really remember those moments of happiness that were created by these things. Remember how things looked, smelled, tasted, and especially how you felt at that time.
3. Create a happiness plan. This sounds complicated, but it's not. A happiness plan includes simple, everyday things you can do to add pieces of happiness to your life. If cats make you happy, go volunteer to pet cats at a shelter. If air and sunshine make you happy, take walks every morning. The point is to add simple things that you can do now to help you achieve some happiness without being driven by money.
You can do this by physically writing out your plan, or you can simply come up with something in your mind that you can implement. I prefer to write things down because it helps me commit.
4. Create a vision board. Now you get to focus on the material things that you want, but ensure you include the things from your list above as well. A vision board should include photos of all the things that motivate and drive you. Mine has pictures of my family, my pets, my dream home and car, my goal weight, visions of my dream job, pictures of places I'd like to go and things I'd like to do.
Put it in a place where you can see it every day and use it to motivate yourself.
5. Stop talking and thinking about money. Of course, you have to balance you bank account, keep track of your spending, and pay rent. But beyond the vital necessities, stop worrying about ways to make money. Put your focus on things you want to achieve that will lead to money. Add these to your list and plan, and work on them every day.
Example: Building your own online business
The fact is if you're always worrying about how to get money now, you're not focusing on the things that will get you money in the future. You need to establish flows for money to work on and this takes time. Too many people focus on get-rich-quick schemes. That's just money motivation and it doesn't lead anywhere. Focus on building something step by step and eventually you will see money will naturally flow on the conduits you create.
Create a Money Flow
Once you've completed the steps above, you will be in a better place to create lines for money to flow on. When money is not your focus, and your attention is on accomplishing a goal, it will be easier to have the patience, drive and energy to reach that goal.
I would recommend taking a look at some of the ideas and posts on this site. There are all sorts of wonderful things you can do to build your business and make money.
The Best Form of Motivation
The highest level of motivation that you can have is the motivation to serve and help others. This is an innate quality that you'll find common in Eastern philosophies and religion, such as Buddhism. A Buddhist, by nature, is not motivated by material things and seeks happiness through self-awareness and servitude.
If you put your focus towards helping and serving others, in whatever way you can, you will find happiness. This on it's own will not necessarily bring you money, but if you can find happiness without money you're more likely to achieve your money goals and be happy once you have money. You're also more likely to put money towards things that matter and that will bring you future happiness.
I remember I got really excited once when I found a gorgeous pair of Coach shoes in a thrift store for $30. That was several years ago and those shoes have since fallen apart. While I may have had a moment of happiness in that purchase, it's not something I was able to maintain without more money.
When I volunteer at my local food shelter, I get a sense of satisfaction that stays with me endlessly. Knowing that I was a part of helping someone survive better or feed their children makes me truly happy, even in my darkest times. It's a happiness that money can't buy.
No matter how poorly I'm doing financially, I always manage to give to others who need more than I do. And I always magically have more money come in.
What Makes You Happy?
Let's start our exercise to get money flowing now, and talk about the things that make us happy. Please share with me in the comments below.