UPDATE: Since I originally wrote this article, Vocal has created a paid version. This article still holds true, and I have continued to make money on the unpaid version. I am making enough money now that I felt confident in paying for the $9.99 a month subscription. I will be writing a new Vocal Media review about the paid versions soon….
Writing Articles for Vocal.Media
There is a free platform where anyone can get paid for writing simple articles. You don't need to have a website or a blog, it's already been done for you.
Just write an article and submit it, and get paid when people view it – they don't even have to read it all or click on anything for you to earn.
It's so super easy, I highly recommend it to anyone who has a surpluss of content that never ends up on their blog – or anyone who wants to just try out blogging without getting into the technical.
What is Vocal Media
Vocal Media, also referred to as Vocal, is a free social publishing platform developed under Jerrick Media to help give a voice to writers and assist them to earn money passively with their writing.
Writers, age 13 and over, can submit articles that Vocal Media will approve and publish for readers who visit their site. Points are then collected based on article views and interactions, and the writer is paid once a certain amount of points are collected. With the traffic the site receives naturally, if you can write on interesting topics, it's not hard to earn points.
Using a bright and attractive layout, visitors to vocal.media are invited to explore and read information through:
Stories – Individual articles under specific topics
Creators – The collective authors of the articles on Vocal Media.
Collections – Groups of specific topics.
Communities – Groups of creators who focus on specific topics.
The content is promoted throughout the Vocal Media community, which already receives thousands of visitors, and it can also be picked up by Google, Bing and Yahoo, through keywords used in the content and, if well-written and popular, could rank it at the top of those searches.
As many writers are experiencing with Vocal Media, an article can be written and published, earn points day by day and automatically pay out. The more articles you add, and of course the more popular they are, the more points you'll earn and the more money you'll make.
Topics
On Vocal Media you can write about pretty much anything that fits into the following topics:
Culture
Arts + Entertainment
Food + Drink
Health + Wellness
Home + Travel
Business + Education
News + Politics
Science + Tech
Love + Relationships
Lifestyle
Sports
Many people write about things they might not feel otherwise comfortable about writing on a personal blog. This is a great space for touching on politics or controversial matters, or anything you feel someone might be interested in.
The topics continue to grow and expand as more and more content is submitted, so even if you don't see your preferred topic above, chances are they'll add it if you keep submitting.
How Do I Make Money on Vocal Media
There are three main ways to make money with articles you submit on Vocal Media:
1. CPM
CPM is the term they use, which basically translates to cost per thousand, to describe their point counting system. The idea is that you get paid $1-$2 for every 1000 views, basically, but there are other things taken into account to help you earn more points.
The system is not easily defined, which is a bit of a downside because it's hard to track, but basically it's based on how long someone views your article and whether or not they are considered to have interacted.
Even if a reader just opens your article, you will earn points, but you will earn more points the longer they read it or if they click on a link in it – so it helps to write engaging articles with decent references.
The algorithms they use seem to be fair, but I'd imagine you'd want to view it over time to see if your writing time spent is worth it, or if it would be better to build your own website and affiliate market for higher-priced items. If you have a thought on that or any experience, please share in the comments.
I was able to dig up an example for you of the monthly earnings of someone who has been writing on Vocal for at least a few years and was posting daily.
The graph below shows a total of 930,046 total view points, with a monthly earning of $3534. Depending on how many posts, and what kind of keyword research that took, it's definitely evident you can make a living as a freelance writer with Vocal Media.
What seems cool to me is that this person could actually take a month off and, based on the history of automatic views the posts are getting, still expect a paycheck between $2000 – $3000 dollars. Or keep writing and it will just build and build.  (hello, retirement income)
2. Gifting
There is an option at the end of every article to gift someone. Anyone who reads and appreciates your work enough to pay you for it can do so.

In order to have this feature in your articles, you do have to sign up for a Stripe account, but you will need that in order to get paid as well. It takes about 30 seconds and it just verifies your identity and allows you to securely submit a bank account to get paid to.
3. Sales
If you have a product, e-book, YouTube video, Spotify link, or anything that you sell online through another platform, you can embed images and provide links. This is a great promotional idea since you get the benefit of the community already within Vocal Media, as well as their premium SEO ranking.
As a note, Vocal Media is an Amazon affiliate. If you insert links or products, they automatically become affiliated with Vocal Media and they will get paid the commission for referral. This is one of the great ways they make money.
If you are an Amazon seller and don't want to spend a lot of time building out your website to gain traffic, you could just as simple write a few articles here to help promote your product, and give you something to share on social media.
Important Note: If you are going to promote and review products anyway, you can make a lot more money as an affiliate marketer or blogger. I would recommend checking out our article on that here: Affiliate Marketing is an Easy Business to Start
Paid Contests
You do have an additional way to make money, through Vocal Media contests. They provide the topic and give the writers a hashtag to include in their post. Writers can submit as many articles as they want, within the guidelines of the contest. First prize gets their story featured on a website and $500, two runners-up receive $100.
I'm kind of excited about the current contest – #WorstDate. I can think of a few articles that I could write about that. Imagine if a writer gets featured on a popular website, the additional money they'd make through clicks and views.
My Vocal Media Review
I've only just started playing around with Vocal Media as a writer, but I already love the content. It's a lot of fun to read through these articles, these authors don't hold back, and I find great stuff to share to Facebook or Pinterest.
I did submit one article. It was approved within 24 hours, with no request for edits or anything. And then a day later has already 11 views within Vocal Media – I've done none of my own sharing or promotion. While it would be nice to be paid in advance for work like this, as a blogger I know it doesn't always happen that way. I think this could have real potential and I'm happy to tap into the marketing that's already being done for me on this venture.
UPDATE June 2018: I haven't continued to post on my Vocal account, simply because I've been focusing on my two blogs, but I just checked in and the random post I did write there has already collected over 250 views. I'm not at the point where it's making money, but I can see how throwing an article in there each week could eventually build into an income. Just this last week I had up to 11 views on the one post in a single day – and I do NOTHING to promote this article, because Vocal Media does it all. It kind of seems easier than keeping track of an entire website, answering comments and emails, etc….hmmmm. I may just test it out some more and throw a few more pages in there.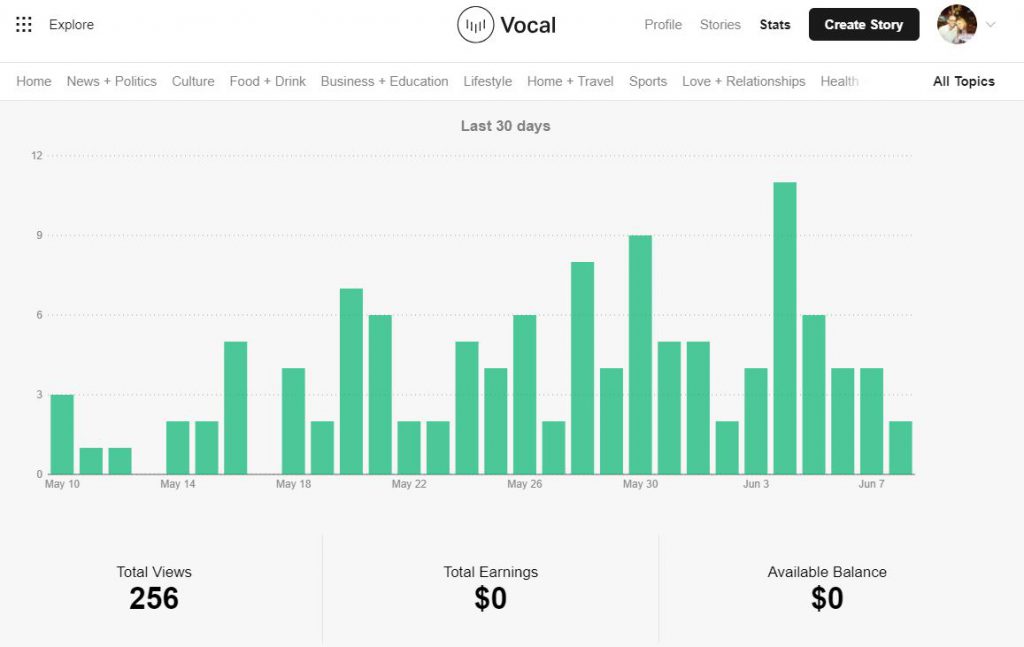 I also found a great review from Matt Cates that outlines his experience making money off of his articles year after year, without having to take any further action. He has one popular article that is continuously making him $1500 a year, with no effort from him. He has some pretty amazing stats with Vocal Media, that you can check out here: How to Make Money Freelance Writing by Matt Cates.
Get Paid to Do What You Love
There are so many ways to get paid for writing articles online. Your information and experience is valuable in today's virtual world, with Internet users in the range of hundreds of billions of people.
If you're really serious about it, I would recommend taking a look at a community like Wealthy Affiliate, where you can build your own free website and learn how to make money by creating your personal online brand.
But if you're looking for something more passive, and you can be really patient, Vocal Media sounds great, too.
As a blogger, I know not all my writing ideas will make it to my website.
I love the idea of dumping off anything extra in Vocal Media and seeing what it does for me financially.
What Do You Think?
I'd love to hear your thoughts on Vocal Media, or the idea of writing as a way to make passive income. Please share your thoughts with our community by commenting below.