Are you interested in learning how to earn money online?
Become a HealthyWage affiliate and you can earn between $30-$50 for each person you sign up to get paid to lose weight. Sound too good to be true? Surprisingly, it's not!
What is HealthyWage?
HealthyWage is an online or app-based service that helps people lose weight, by incentivising their weight loss with a brilliant betting system. Basically a person can wager a bet on how much weight they want to lose in a specified period of time. If they reach their goal they can win anywhere between $500 to $10,000, depending on how much they wager.
If you would like more specific details about how HealthyWage pays people to reach their weight loss goals, check out my blog article: Get Healthy and Earn Money Losing Weight with HealthyWage or you can visit the HealthyWage site directly at HealthyWage.com.
Is HealthyWage Legit?
HealthyWage has a 4.4 out of 5 star rating with the Better Business Bureau, an A+ rating.
Large corporations, including Dominos pizza for example, have used HealthyWage to inspire and promote healthy weight loss with their employees, as documented in dozens of credible news articles.
HealthyWage has earned kudos from and been featured in articles on CNN, Fox News, ABC, NBC, Today, The Doctors, TIME, The Washington Post, AARP, NPR, The New York Times, Woman's Day, The Wall Street Journal, Yahoo!, Shape magazine, Forbes, and many more.
**Click here to view videos and press featuring HealthyWage**
HealthyWage Success Stories
There are also hundreds of social media posts where people are sharing their weight loss wins from HealthyWage. It's getting rave reviews because people are actually having weight loss success with it, the bonus being that they get paid to reach their weight loss goals.
How Much Can I Earn as a HealthyWage Affiliate?
There are two main types of referrals you can earn money with through HealthyWage, and they pay really well.
You can earn $50 for every individual who signs up for HealthyWager through your link, and $30 for every team challenge participant. Teams must sign up in groups of 4 or more, so getting one team sign up could earn you $120 or more. The affiliate cookies for HealthyWage last for 30 days, so if someone clicks on your link and signs up later, you can still earn a commission.

There are hundreds of successful bloggers, or people simply sharing on social media, who are earning money as affiliates for HealthyWage. How many people do you know who want to lose weight? Start with that and count $50 for every person you can think of. The possibilities are numerous and potentially endless with the amount of people in the world who could use the incentive to lose weight.
The HealthyWage affiliate program uses the ShareASale affiliate platform, which I personally love because I can use it to create an affiliate link to any page on HealthyWage.com. Additionally, HealthyWage offers a lot of great advice and examples on how other affiliates are earning money online, which is a great advantage that not all affiliates offer. Also, when you sign up you will get a personal, dedicated HealthyWage affiliate manager who will help answer any questions and ensure you have the tools that you need to promote.
This is a really great opportunity to make money, even if you're not a blogger or affiliate marketer. It has ranked with Easy Business Builders as one of the top home money making business opportunities for 2017, for how easy it is to get referrals and how well it pays.
**Click here to sign up as a HealthyWage affiliate**
How Do I Promote HealthyWage as an Affiliate?
A lot of people are signing up for HealthyWage by placing their own wagers, meeting their own goals, and getting paid for their weight loss, and then sharing their successes as an affiliate. This is a very popular way to promote the program to your own friends and family as they will see that it works. But you can also just promote the program for what it is, the reviews and successes it already has speak for themselves.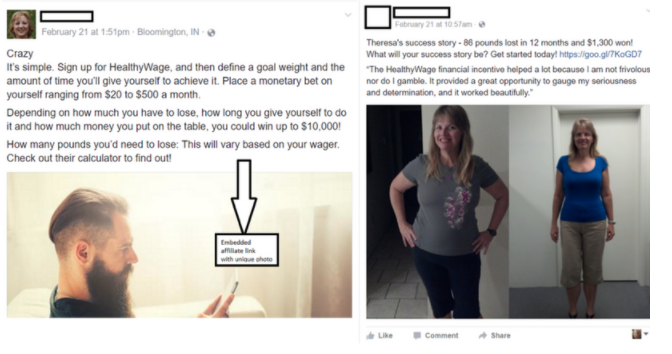 If you don't already have a blog or website as an affiliate marketer that would be my number one suggestion. You can create a free website through SiteRubix, which also comes with a 7-day free trial of the Wealthy Affiliate marketing course. This is the fastest and simplest way to build a website and blog, and learn how to drive traffic to HealthyWage. Check out my article: Build Your Own Website Free
Otherwise, there are numerous options for how to promote and share your HealthyWage affiliate links. It's successfully being done by many through social media posts and even YouTube videos.
Share Your Successes with Me!
I'd love to hear of any success you've had or heard of in relation to HealthyWage, whether it's reaching a weight loss goal or earning money through referrals.
What other affiliates have you had success earning money with? Please share in the comments below!