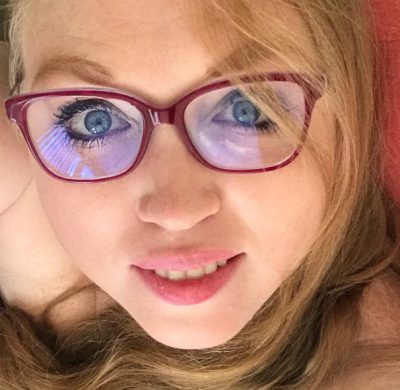 I originally created Easy Business Builders as a resource for those suffering from any sort of disability who don't have the ability to handle a typical 9 to 5 job, but still need money to survive.
As someone living with chronic pain from endometriosis, fibromyalgia, nerve damage, neuropathy, autoimmune and thyroid disorders (and whatever else might be undiagnosed), I understand the struggle to keep surviving financially while being unable to commit to a 40-hour per week schedule.
In my own journey to reach financial freedom working for myself, I've found some great resources that I wanted to share here in case they could help someone.
I have adopted the tag line, "BE YOUR OWN BOSS," as something that drives me both in my career and in life. Everyone has the capacity to live the life they choose, and I hope my attempt to find happiness by taking charge and finding the best resources to live by can be an inspiration for others.
If you'd like to learn more about me or my journey, please feel free to read on below. I won't be talking about my medical situation here, because this is more about business, money and living the life you want, but feel free to visit my personal lifestyle blog Jaime Talks to learn about that and more than you'd ever want to know about a person.
Otherwise, I welcome you to explore my site and see if there is anything here that can help you reach your financial and/or personal goal to BE YOUR OWN BOSS.
ABOUT ME
I live with my husband and cats in a small apartment in Las Vegas. I'm from California, both southern and northern, which is also where I met my husband. But we've lived in a lot of places, including the home we hope to go back to someday in Colorado.
I occasionally play bingo, because it's cheaper than slots or table games, but if I can afford a night out I'll either be at the Pai Gao table or Roulette wheel. These days I don't usually step into the casino, unless it's to get a free buffet, because I want to build my business here and not waste money.
We are unable to have kids so we just adopt or foster rescue cats to feel like parents.
I love playing video games, mostly old school Nintendo or Sega, or with my massive collection of Skylanders. That is my guilty geek-pleasure.
I have a Bachelor's in Hospitality Business and Management, which includes a ridiculous Associate's Degree as a Chef – an absolute waste of education, if you ask me. (Go work in a kitchen and you'll learn plenty more than a $60,000 degree will get you in Culinary School.) I've attempted catering and being a personal chef, but find kitchens very demanding and a difficult task since I started feeling chronically unwell.
HOW I GOT STARTED WORKING FROM HOME
Several years ago I was forced to start working from home for medical reasons. I was lucky enough to be working with a company that was offering a customer service position from home. While many think of this as a dream job, it has definite drawbacks that many don't think about. Despite not having to go anywhere or having any physical demands, it did not improve my health and I ended up more and more restricted.
I work strange hours as my company is 24-7. For a while, I stopped socializing, except online. Because I work in retail, and because my department has a lot of turnover, I still can't take vacations at the times I need or want to visit my family or friends. I also capped out my hourly wage several months back and have nowhere to grow.
I originally started my job with this company, with the idea that I could earn more and more, and build up to the lifestyle I wanted. After limiting myself to working at home, I unintentionally ended up cutting out all opportunities for growth.
I am not wealthy by any means. I live paycheck to paycheck, and barely at that. I eat cheap food, and I don't shop a lot. I don't go out and I don't use a lot of gas. I have a very cheap, old car. I don't have kids, although I do have pets, but I still struggle to make ends meet in this economy. I think a majority of the United States middle-lower class is unfortunately in the same boat.
A dream job should not be one that holds you down and keeps you from growing. Am I right?
I had originally gone into my job with the idea of expanding my income to monumental levels by doing well in sales and being promoted into management. Then due to a medical condition I was forced to cap that out.
Working from home, I have found that eight hours straight being clocked in is just as hard as doing it somewhere else. I need to be able to work when I'm at my peek, and take breaks when I need to. I need to rest when my body asks me to. I need to be awake during daylight and get some sun on my skin. I need to be able to visit my family and friends, and take advantage of the beauties that the world has to offer. How can I do this while chained to a desk, whether in my home or not? So for the past few years, I have been researching and building online businesses I can do from anywhere.
I have found that building a small business of my own is the best way to offer myself continued personal growth and wealth into the future.
I have connected up with a lot of successful people, some friends I knew before, and I am learning what successful people are doing to earn an ever-growing passive income. I now personally have four small businesses going, and each is starting to profit. I'm not making enough to live off of without external income, but the reality is there and I can see that growth happening easily within the next year. And then in the following year I'll be making more than I've ever made. Dozens of my friends have started their own successful online businesses, and a few have quite their jobs already. We're making it happen, which is really exciting for me.
WHY I WANT TO HELP PEOPLE
The individuals who contribute to this group know how it feels to struggle with finances, living paycheck to paycheck, dreading the first of the month, and wondering where the rent will come from while dealing with difficult medical situations.
I have all spent many late nights doing Google searches to find the best way to make money quickly, and research tells me I'm not the only one. I know there is a lot of junk out there, just scammers trying to make money, and I'm working out what is successful.
Through my research I have discovered there are A LOT of people online taking advantage of people having a rough time without offering actual solutions. And while no one has really found a way to bring in income OVERNIGHT, with anything more than luck at a roulette wheel, I did find amazing ways to set up and maintain an online business that can bring in a regular and passive income in a matter of weeks or months. I also learned many ups and downs, ins and outs, and truly helpful tools for those who work from home.
I want to provide strength to those in need by simplifying the confusing world of the Internet, and offering real, long-term solutions to money problems.
IS THIS A SCAM TO GET MONEY – FULL DISCLOSURE
No. I am not directly asking for any money here. I am just sharing the tools that I have found in my research, with honest reviews to lead you to your best option for making money for yourself. Of course, I do need to support what I'm doing here so I do get paid for any offers you take. But I don't want to push anything on anyone, it's your choice.
It is likely that I will earn money or bonuses if you choose to sign up for a program that I am promoting. However, no one has paid me to write anything and I only benefit by helping YOU, so I have no reason to be anything but honest.
All the reviews here are based on the personal experiences of average people with actual disabilities, not specifically tech or business savvy. Most of the content will be laid out in the simplest of layman's terms. Feel free to comment on any post to let me know any additional information you feel might be valuable. And if you'd like to contribute, I'd love to hear from you!
I will never falsely promote something, as no one will benefit in that scenario. I will also never promote anything as "the best" option out there as things can always be improved upon, but I'm happy to tell you my favorites and what others have found successful.
IN SUMMARY
There are too many of us suffering and having difficulty healing while stressing about income. Let's find the answers together and help each other live better lives.
If you ever need a hand or have any questions, feel free to email me at jaime@easybusinessbuilders.com and I will be more than happy to help you out. Keep in mind, my physical condition makes me slow and sometimes unable to move at all, so there may be a delay in answering.
Otherwise, if you'd like regular updates as I come across opportunities I think are worth sharing, please sign up for my monthly newsletter.
Best,
Jaime