CLICK HERE TO SIGN UP FOR YOUR FREE COINBASE WALLET
Are you looking for a way to easily and safely purchase Bitcoin?
Do you need a free and easy-to-access Bitcoin wallet?
Read on….
WHAT IS COINBASE?
Coinbase is one of the most popular apps for buying, selling and storing the more popular crypto currencies. They currently support buying and selling the following:
BITCOIN (BTC)
BITCOIN CASH (BTH)
ETHEREUM (ETH)
LITECOIN (LTC)
Provided there are no tech issues, it's the simplest platform I've used for buying and selling bitcoin. You can use a credit card or bank account to make your purchase and the funds are stored directly in the app or you can move them to a virtual wallet. I'll elaborate more on the tech issues under CONs below.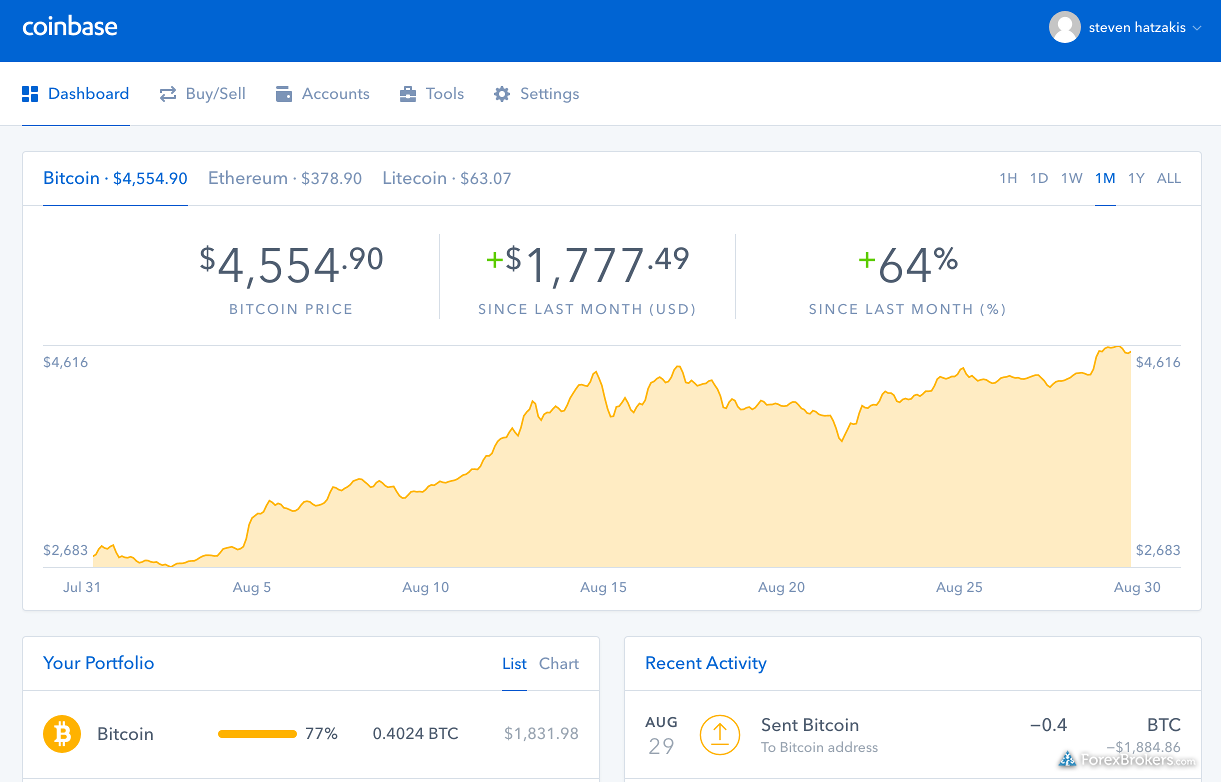 PROs AND CONs
PROs
1. SECURE – The software is extremely secure and offers a way to buy crypto currencies at market price.
2. USER FRIENDLY – You can easily move money in our out, buying or selling. You have the option to buy using a credit or debit card, starting at a limit of $300 a week. Or you can add a bank account and do wire transfers starting at $10,000 limits. Requests for limit increases can be submitted.
3. BUILT IN WALLET – You can store the money in your Coinbase account without worry of losing a digital wallet or your phone breaking and losing all your money stored in your device. The website is easy to access and keeps record of all your transactions.
4. MARKET FLUX VIEW – My favorite feature is being able to instantly see the currency stats and how that has effected my funds through the app. These are updated in real-time several times throughout the day based on the current market.
CONs
1. TECH ISSUES – There are times when overload of buying or selling can make certain actions on the app take longer or glitch.
When I first signed, I had to take a picture of my ID and the app would not recognize it. The site clearly alerted that there was an issue they were working to fix. Once it was fixed it was fast and easy.
As a note, the last time I experienced a delay due to tech issues that prevented me from making a purchase, I noted the same tech issues and delays on three other bitcoin platforms.
So it does seem that slow speed during high-volume issues are related to bitcoin exchange in general. At the time bitcoin was going through huge fluctuations which takes a lot of energy, causing the slows in purchasing and selling.
2. WALLET IS ONLINE – The money is stored digitally which some believe is not secure for hackers.
While I haven't heard of any issues with this from users who protect their accounts with good passwords, if you have any concerns you may want to use a separate wallet on a specific device.
3. DELAYS – I have heard that some larger purchases and sells can be delayed y 24-48 hours at times.
This is actually an issue with pretty much any Bitcoin platform since the Bitcoin itself takes a lot of energy and work to move.
I have personally not had an issue yet with all of my purchases showing instantly in my wallet. Most of my purchases are within a few hundred dollars at a time, larger wire transfers taking between 24-48 hours to settle.
Overall, when comparing to other options, I've honestly found COINBASE to be the easiest and most direct way to buy, sell and store Bitcoin.
COINBASE FEES
Having a wallet and storing money on Coinbase is absolutely free. Any fees assessed are based on the cost of mining and exchange rate at the time of your purchase. These are revealed at the time of your purchase before it is submitted.
There are no random or surprise charges and you could leave your Bitcoin there for years at no cost other than market fluctuations.
There are some other platforms, including Gemini.com as the next most popular, that do offer discounts on trading fees and exchange rates so you can purchase Bitcoin for a lower price.
In attempting to quickly review the rules about how the fees are calculated on the discounted sites it seemed that there were a lot of rules and regulations so the discount may or may not apply depending. It was very hard to determine, without actual purchases, what the fees are specifically on competitor sites.
With Coinbase I find they are very upfront about the fees and you can see what they are before any purchase.
SIMILAR PLATFORMS
There are several other similar platforms that are popular for the buying and selling of bitcoin. None of these has the ease and simplicity of the Coinbase app, in my opinion. However, I have found these to be legitimate ways to buy and sell Bitcoin. I feel I should give them some mention here in case you'd like to compare and decide.
These are my top next best choices:
1. Gemini.com – This is the most similar option, although I find their identification process and user face slightly more complicated, they claim to be able to provide discounts on fees and exchange rates which could make a difference for you if you are buying large amounts.
They only have an option for adding a bank account, it doesn't appear you can buy with credit or debit card as you can with Coinbase.
2. Coinmama.com – This is another popular platform where it's relatively easy to buy bitcoin. The identification requirements are a bit stricter, requiring a selfie of you holding your ID as well as back and front photos of your ID.
On Coinbase you only need back and front photos on your ID. Additionally, Coinmama does not have a wallet function so you have to already have a bitcoin wallet to put your funds in when you make your purchase.
VERDICT
Coinbase is an absolutely legitimate way to buy, sell and store your bitcoin. I would recommend it to anyone wanting to get into the current bitcoin market.