After working from home for a few years, I started to realize the cost-effectiveness of not using my car. My insurance went down since I logged fewer miles, and I was using less gas. If I wanted to, I could eliminate the car entirely and get rid of my insurance bill altogether.
With the growing popularity of Lyft or Uber, it's amazing easy to get a ride these days. And if you only really want to go out Friday and Saturday night, let's say, it's much more cost effective to take a ride share. Not to mention, if you go out and have a few drinks, it would be safer not to even have a car to drive.
But the one thing I could not imagine doing without my car is…grocery shopping.
I used to go to the store daily after work to pick up fresh ingredients or use a coupon I had. My husband and I are very picky and different eaters, so I'd end up going to a different store every day to sort of fill in our list. When I started working from home, this got really difficult because it wasn't natural for me to just leave the house every day. I created a grocery and errand day, and I'd end up spending half of a day off going from store to store, to get what we need. It was literally the only thing I did that made having a dependable car, and a car payment, necessary.
When I realized the only reason I had a car payment and monthly insurance premium was my grocery habits, I decided to look for something more conducive to my work at home lifestyle. Unfortunately, there is only one grocery store in my area that has delivery and that meant not getting the things I wanted.
That's when I found Instacart.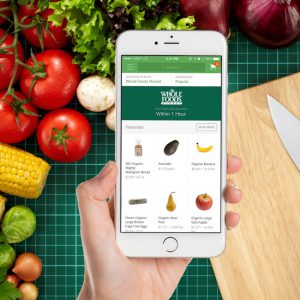 Instacart Online Grocery Store Delivery
Instacart is an amazing grocery store delivery app. Similar to Uber and their personal drivers, or perhaps you've heard of PostMates couriers, I get to hire a personal shopper near me who will go to the store and pick up my shopping list.
This of course comes with a delivery fee, but I would recommend you sign up for $14.99 a month to get unlimited free deliveries for any orders over $35. You will soon learn the value of being able to order free deliveries of small orders anytime you want.
Using the app, or at Instacart.com, I can select my shopping list items from my favorite grocery stores, and an Instacart shopper will pick them up for me.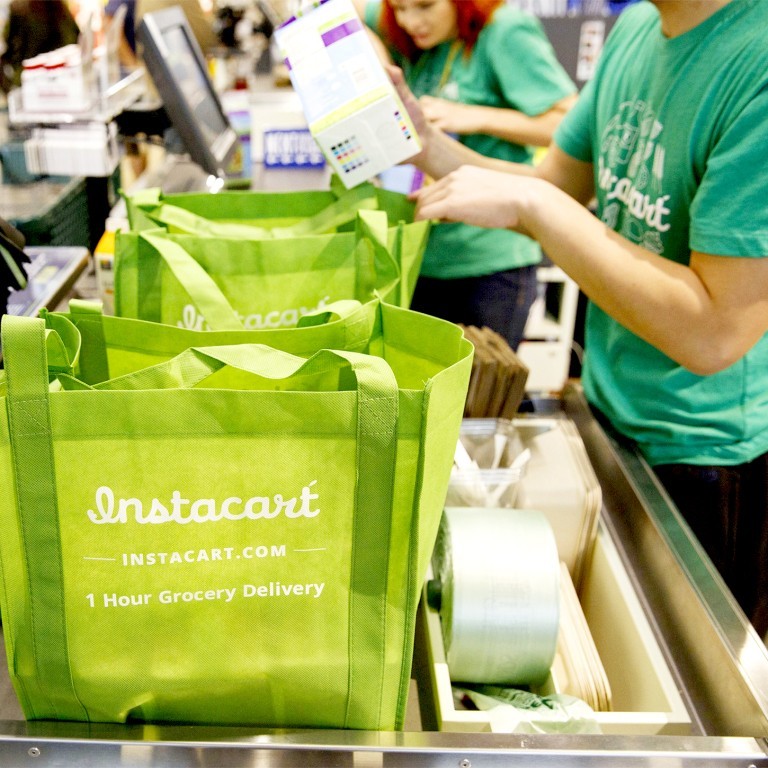 What Stores Can I Shop From?
Everyone's local Instacart is going to have different grocery stores available, depending on what you have in your neighborhood or city, and who Instacart is currently working with. Their list of options is continuously growing.
I live in North Las Vegas and can hire a shopper for any of the following stores:
Smart & Final 
Smith's (Krogers) 
Whole Foods Market
Natural Grocers 
Petco
Costco Wholesale
Costco Business Center
CVS Pharmacy
I love that I can get pet store items, as well as bulk items form Costco, and I don't even have to be a member.
Delivery Scheduling and Checkout
I've had deliveries at multiple times in the day from different stores – great for parties and catering, or special diets. And it's very cost-efficient with endless free deliveries at only $14.99 a month.
Depending on how long I browse and check out the deals, I can have my grocery list order placed within minutes. Instacart also saves the things I shop for so I can quickly find all the things I regularly buy.
Checkout is super easy because Instacart stores all my information safely. So I just verify by fingerprint with my phone, confirm my address and payment method, and that's it. Within minutes, depending on when I scheduled delivery, I can have someone shopping for me.
Overall it's just a great shopping and delivery app for your typical grocery items. It also has a personal shopper chat feature that I think makes it stand out from other grocery delivery services.
Instacart Chat Feature
When your personal shopper starts shopping, you get alerted to every change they make to your shopping list so you can be involved in choosing an alternative, or just taking a refund. I love being able to decide what alternative I want if the store doesn't have something.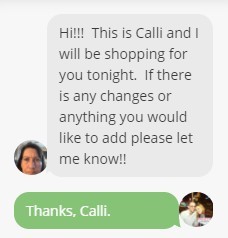 If things aren't available, my shopper will let me know and suggest alternatives so I can get what I need.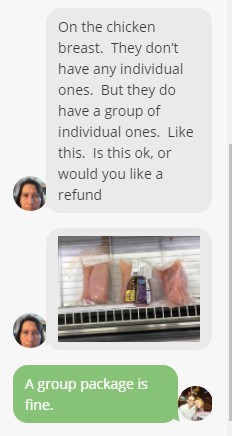 Do You Have to Tip for Delivery?
It is not mandatory or expected that you tip.
I have the option to give my shopper a good rating at the end, and tip only if I want to. Tips aren't mandatory, but I like to share a few dollars if I really feel like someone has helped me. I'm still paying a lot less than the interest on my car payment and the gas I used going from store to store, not to mention the time. Also, realize these are people like you and me trying to work for themselves.

Are the Store Prices Jacked Up?
Of course the prices on the app and the prices in store are going to be different. That's how they make their money. But you're paying that little bit extra to not have to waste your time driving from store to store. You can still comparison shop the deals between stores and do separate deliveries so you get all the deals you can find.
Also, Instacart does everything they can to help you find coupons for the items you want.
If you really know how to bargain hunt, this will be an adventure for you. If you don't, you get a chance to learn without driving all over town. I have gotten some amazing deals through Instacart, including 6-packs of Blue Sky Natural Soda for as little as $0.49.
Here are some shots of my actual receipts, showing you some of the best deals I've been able to get on my favorite items through Instacart.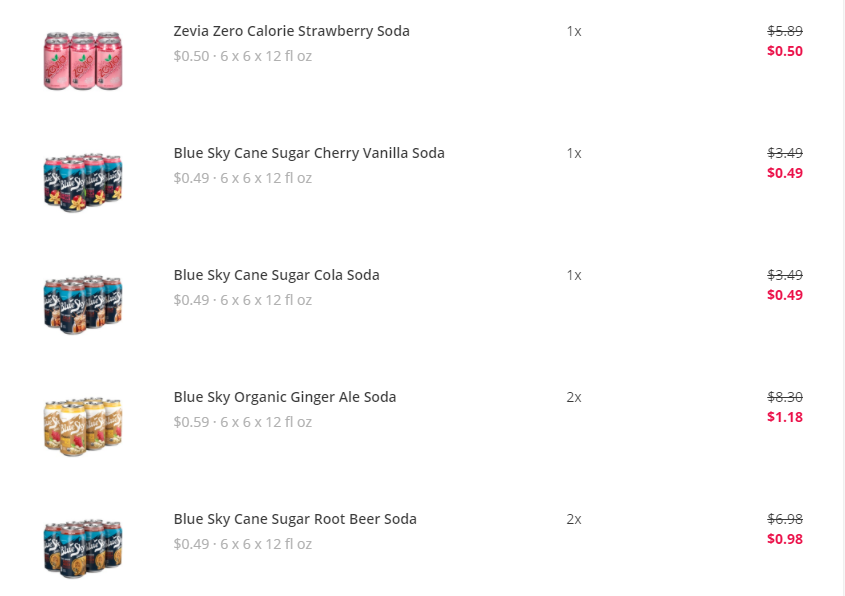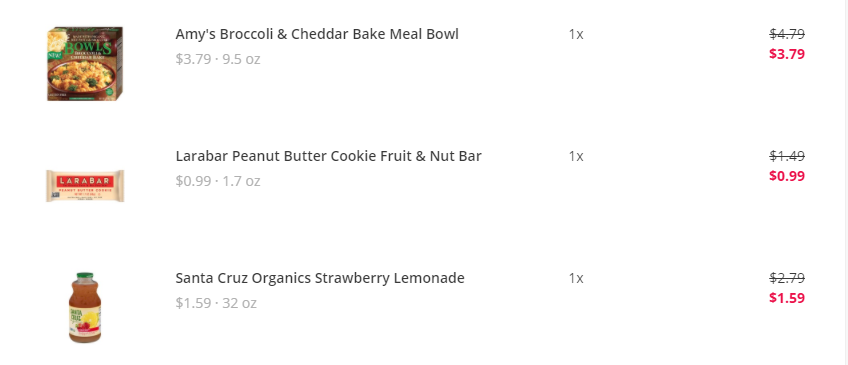 Every area is going to have different pricing. For Las Vegas, these prices are incredible, and well-worth the monthly delivery fee.
How Does Instacart Compare to Local Grocery Delivery
If I had to compare to my local grocery store's delivery, I would say the prices are much better because they're spread out among different stores. I'm definitely getting the lowest prices possible for delivery of any item.
Also, my local grocery delivery would either cost $9.99 for every delivery, or I'd have to order over $150 worth to get free delivery. I had to schedule it the day before, no same day deliveries unless I got up early. I couldn't just get what I need when I need it, so I had to have long detailed lists and we'd often end up wasting food that went bad.
As far as service goes, they are not at all comparable. With grocery delivery I would place my order the day before, and just had to wait until everything showed up to find out what I was missing. It was very frustrating.
With Instacart, I love shopping along with my shopper and helping them choose the best alternatives for me.

Instacart Customer Service
If you ever do have a poor order experience with an Instacart shopper, and I've only had a couple out of dozens of experiences, you just give 3 or fewer stars and let Customer Service know what went wrong. They are very good at getting back, and they do offer helpful solutions to make up for any issues. I appreciate that they are trying to support their shoppers and their customers so this can be a good experience for both.
Support Small Businesses and Individuals
Instacart is a personal opportunity for people to work for themselves and make money shopping for others who might be less capable, or who are simply in a business where it would be beneficial to save time from shopping. This is why I feel especially great about shopping with them, because I'm supporting entrepreneurs or individuals who are taking their income into their own hands.
At this time we do not get a referral fee for sending anyone over to Instacart. But if you'd like a $10 coupon for your first order you can use my code: JLOVE8D1E146
You may also want to ask your friends and family for their codes. Codes only give back to the original person for five uses, so once five people use mine, I won't get anything further. I'd love to help others share their codes, if you'd like to comment below. I ask that someone use a code from this page before commenting their own. Let's help each other out!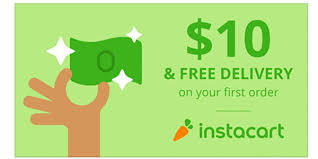 Share Your Experience with Online Grocery Store Delivery
If you have any experience with grocery delivery services, I'd love to hear about it. Another one of my favorites is AmazonFresh, but that one is pretty new so we're still exploring here.